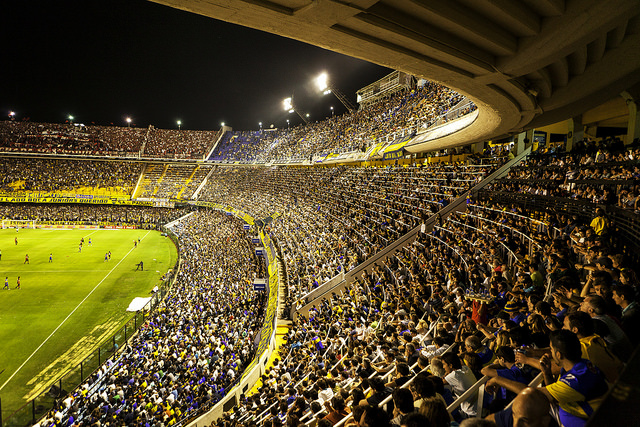 F is for Ferias and Futbol
Ferias/outdoor markets, held in different neighborhoods on weekends, are good places not only to shop but to mix with the Portenos. ♦  Feria de San Pedro Telmo is a Sunday must-do. Stretching along cobbled Calle Defensa at least a dozen blocks, the Fair is brimming with antiques, vintage clothing, leatherwork, mate gourdes, street food, tango dancers and musicians on every corner. ♦  Feria de Plaza Francia open for business on Saturday & Sunday, sprawls over several linked squares outside the Recoleta Cemetery. From 11 a.m. to dusk, artisans sell handmade clothes, jewelry and housewares, as well as traditional crafts such as leatherwork and mate gourds. ♦  Feria de Plaza Serrano, open on Sundays in heart of Palermo, is a small (actually round) square (a.k.a. Cortazar), whose hippy-artisan sellers ae into funky jewelry and ceramics, while the playground fences provide "gallery space" to hang local artists paintings. Additionally, bars and cafes nearby push back their tables to make room for the clothing racks of young designers.
Futbol beckons sports fans who can't come to Buenos Aires without visiting legendary soccer player Diego Maradona's old stomping grounds, La Bombonera Stadium, home to the Boca Juniors Soccer Club, South America's most popular and successful team. While B.A. iss the city with the most soccer stadiums in the world, La Bombonera comes with a visit to the adjoining Museo de la Pasion Boquense (Museum of the Passion for All Things Boca), whose huge auditorium, complete with a 360-degree theater, makes you feel like you're actually on the playing field. Learn all about the history of the Boca Juniors and browse their trophies, uniforms and team paraphernalia. Local operator B.A. Tours offers a Football Neighborhoods Tour, for five hours visiting some of the city's most important teams: Boca Juniors, Huracan. San Lorenzo, Argentinos Juniors and River Plate. Participants hear the stories behind the clubs, gain insight into the passion they inspire in each neighborhood, using an audioguide in English and Spanish. And the action bonus: the chance to step out onto the pitch at the stadiums and visit the official club museums.