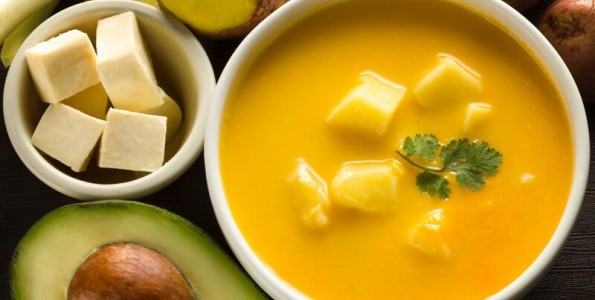 L is for La Ronda, Locro de Papas, and Lloa Parish
♦ LA RONDA is a small neighborhood tucked into the historic center of Old Town Quito. Its main pedestrian-only street (Calle la Ronda) is lined with colorful houses and balconies abloom in geraniums, cozy restaurants, ice cream parlors, chocolate shops, a honey-based products store, coffee and hot chocolate cafes, and even a beautiful little boutique hotel, housed in an 18th century residence: La Casona de la Ronda. It's also a street of workshops featuring traditional trades the city, such as handmade pottery and wooden toys, tin wares, candles, traditional sweets, art restoration. Here you will meet Humberto Silva, a tin tinker for more than 50 years whose shop shelves are full of pots and toys; Hubert Santacruz, the Piano Doctor, has dedicated his life to restoration of antique pianos and greets visits to his shop with Ecuadorian songs; Luis Lopez, a third-generation hat maker, also makes colonial period costumes that visitors can try on and take a picture.  And of course along lively Calle La Ronda—especially on Sunday— you'll encounter musicians and street folk characters like "Juancho," "The Poor Black Kid,", "Chola Pinganilla" are awaiting you to dust off   traditional games for a bit of street play: "el Sapo," hopscotch, football, spinning tops, marbles or wooden cars.
♦ LOCRO de PAPAS, a smooth, creamy potato soup served with avocado and cheese is prepared in 43 different variations in Ecuador, using some 500 different kinds of native potatoes. Another popular "L word" specialty is llapangachos, fried potato and cheese pancakes, often served as a side dish with fried eggs.
♦ LLOA PARISH, 45 minutes from Quito, is noted for its great gastronomy, adventure sports in waterfalls and rivers, and natural ambience. Follow the Ruta Chiriboga trail to find a variety of traditional foods from the regions served up at local food stands.