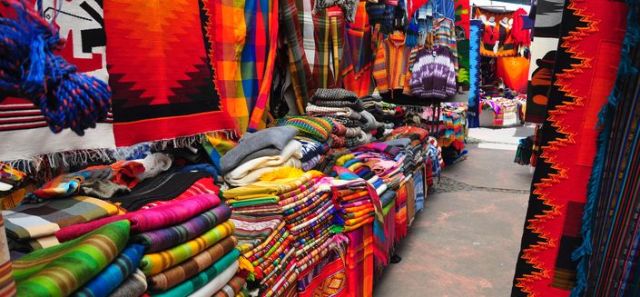 O is for Orchids and Otavalo
♦ ORCHIDS aficiandos need only head an hour northwest from Quito to find the Pahuma Orchid Reserve; it's the wet forest home to over 270 species of orchids (9 of which are endemic), as well as bromeliads, mosses and ferns.  Right in Quito, orchid lovers should head for the Jardin Botanico (Botanical Gardens in Carolina Park) which has 1,000 orchid species on display.
♦ Of course, "O" is for OTAVALO, Ecuador's most famous country market, its Textile Market in the Plaza de Ponchos the top attraction.  Saturday is the busiest market day, but there is plenty of good shopping here any day of the week. Saturday too the produce market overflows with food, household items and clothes; go early to the animal market. There is a lot to see and do around town, including the Museo del Obraje showcasing the textiles that made the area famous. Throughout Otavalo there are stores where you can browse in a less frantic atmosphere; however, the atmosphere heats up during the Festival of San Juan, held in late June and the Festival of Yamor the first weeks of September. While Otavalo is the most popular day trip from Quito, for the best experience, spend at least one night before in one of many fine haciendas nearby.