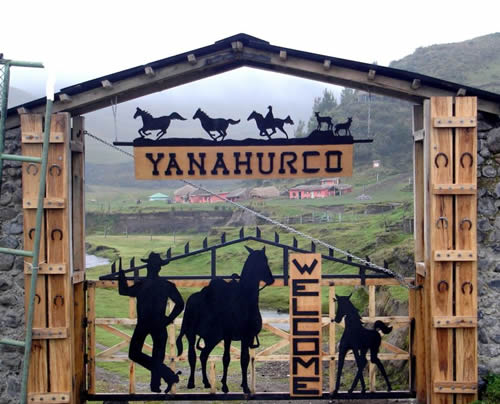 Y is for Yumbo People & Yanahurco Hacienda
Meet the YUMBO people, who settled on the rich volcanic mountainsides of the Pichincha volcano, are being studied at the archaeological site of La Tulipe,  occupied from around 800 AD to the Spanish conquest.  A day trip from Quito or a stop on the way to Mindo, the main, interesting and well-excavated archaeological complex includes 6 different pools, with staircases leading into them, perhaps for religious purposes similar to baptism.  Altogether, the site at Tulipe and the 2,000 pyramids and mounds now unearthed point to an important nation thought to have controlled the crucial trade route between the Pacific coast, the Andes and the Amazon to the east. On site is the Museum of Tulipe.
YANAHURCO HACIENDA, embracing 7,300 acres in the Cotopaxi National Pak area, hosts the largest round-up of the Ecuadorian sierra. Starting at the end of November and lasting two weeks, 100 cowboys gather in hundreds of wild horses and about 2,000 head of cattle to be vaccinated and branded.  Guests booked into the 10-room hacienda during the round-up are invited to join in, or at any time stay and enjoy hiking or riding the range, fishing in clear rivers, or dining on hearty hacienda cuisine.