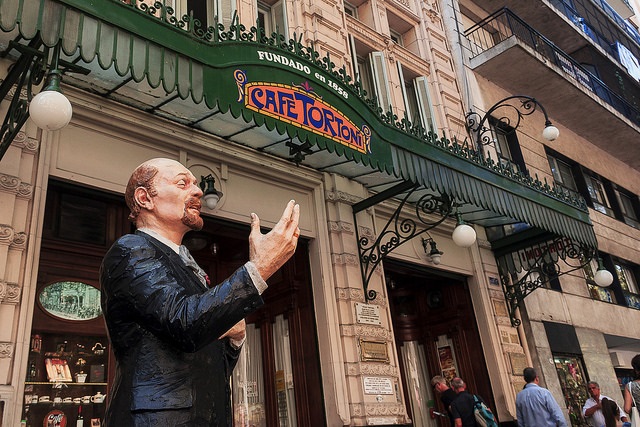 C is for Cafes and Confiterias
Cafes & Confiterias cater to Porteno customs of coffee in the morning and afternoon high tea, often also offering meal menus. There's a small group of cafes, all dating back to the Belle Epoque era of 19th century Buenos Aires, that have been declared sites of cultural interest. Among them:
♦ Confiteria Las Vialetas. Opened in 1884, this most beautiful café is fitted out with stained glass windows, curved glass doors and Italian marble floors and waiters in white gloves. Located in the Almagro area, the café is known for its afternoon tea and sweets—considered an oasis of chocolate and pastry cream, although a recent tea-timer reported gave rave notices to a warm apple strudel with dolce de leche and vanilla ice cream.
♦ Legendary Café la Biela sits on the site of a former general store back when the area was all farmland. In the 1950s, it was a popular hangout for racing car champions whose photos and motoring memorabilia decorate the wood paneled walls. More recently, we note that the likes of Francis Ford Coppola and Robert Duval have dropped in perhaps for wine and tapas, a cold beer, rich pastries with their tea or supper. La Biela's popularity today as other dimensions: outdoor terrace dining in the shade of a giant rubber tree and a direct views of the Recoleta cemetery right next door.
♦ The perfect, historic and often hard-to-get-into place to stop for coffee or a snack in along Avenida de Mayo is historic Café Tortoni, founded in 1858 and wonderfully appointed decorated with stained glass ceilings and Tiffany lamps. It was a hangout for literary greats Jorge Luis Borges and Alfonsina Storni and tango singer Carlos Gardel, a trio whose statues occupy a table in the back. Also on tap are twice-nightly tango shows.