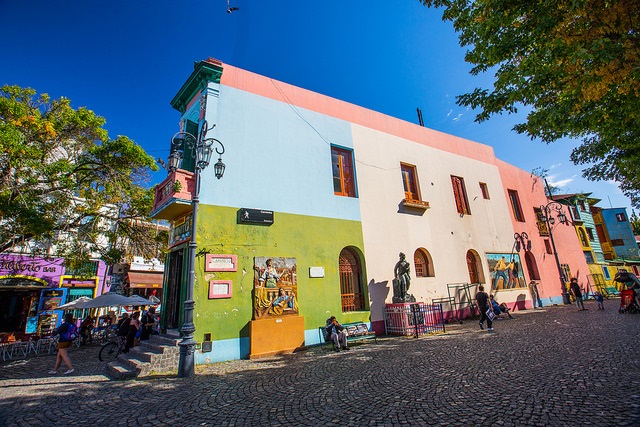 L is for La Rural and La Boca
La Rural, founded in 1878, is Argentina's biggest country fair and one of the most important agriculture and livestock fairs in the world. It's a two-week event that has been taking place every July since 1886. Organized by the Argentina Rural Society, La Rural is hosted at its Belle Epoque showground and exhibit center, spread over six pavilions and occupying a half-million sq. ft. of exhibition ground.  During La Rural, visitors find hundreds of stands and thousands of animals—all told 4500 animal exhibitors in 2018—particularly cattle.  Events include competitions in various animal and agricultural categories, plus displays of acrobatic gaucho skills. Consider this a spectacle for all the family to enjoy.
La Boca, the original port of B.A. is a mixed salad of a neighborhood. Here we find the very, very touristy but fun Caminito, a pedestrianized and art-filled thoroughfare; it's an attraction we all know as a "street museum" lined with colorfully painted houses, built of wood and sheet metal by the Italian immigrants and typical of the dwellings that came to characterize the port towards the end of the 19th century. Today, murals and mosaics by local Argentine artists are incorporated as part of this outdoor museum, along with stalls manned by painters, sculptors and photographers. Tango singers and other street performers are part of the carnival-like scene. Looking a bit out of place is Fundacion Proa, a thoroughly modern art museum that has an excellent art book shop and a café attached to a rooftop patio with a fantastic harbor view.