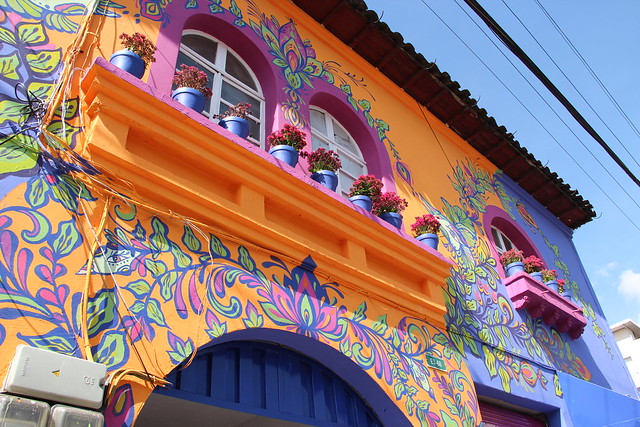 S is for Spas and Street Art
♦ AH, THE SPAS
In Quito, JW Marriott invites guests to unwind with Vinotherapy, a new treatment blending fine wine and blissful relaxation. Vinotherapy, an innovative wellness treatment infusing the healing properties of wine and grapes with body and facial treatments, is designed to help combat aging and activate blood circulation.  The treatment is a full body exfoliation utilizing crushed grapes, red wine, rice powder and grape salts, followed by an invigorating rinse in the spa shower. A hot bubble bath with a glass of red wine in hand then precedes a soothing massage with grape oil and grape extract facial to conclude this wine-lovers indulgence.
In the Quito region, a two-hour drive from the capital is the pretty village of Papallacta and its Termas de Papallacta Spa complex of more than a dozen sparkling pools of therapeutic waters offering the country's most luxurious thermal baths experience. Here, in a beautiful valley and mountain setting you move between baths of thermally heated water, swim in the fantastic pool, enjoy a bracing jump into the icy plunge pool, then head back for the steaming baths. Note this is an extra sybaritic experience at night, and not weekends. Guests at Hosteria Pampallacta Termales have rooms with fireplaces and huge stone bathtubs you can fill with thermal spring water.
In Banos (a 2.5 hour drive from Quito), no setting — surrounded by mountains and 70 waterfalls — can beat that of Luna Volcan Adventure Spa (renamed from Luna Runtun), spectacularly set on 310 acres and the slopes  of Tungurahua volcano. The amazing Spa offers 12 treatment rooms and 31 treatments, as well as four pools and Jacuzzi with hot volcanic water.  Suites come with hot tubs, the restaurant focuses on Ecuadorian cuisine, the Café de Cielo brews 34 coffee varieties. And under adventure activities, you'll find 25 irresistible options.
♦ STREET ART is popping out all over. No better time than the present to consider a tour with Quito Street Tours, and wander the colorful streets of La Floresta to get the lowdown on the vibrant murals painted by well-known street artists, including Mo Vasquez and Apitatan.  Or wander over to the La Mariscal district to Plaza Borja Yerovi, where residential-scale buildings are wrapped in with decorative murals. Just down the street, you'll have to go inside boutique hotel Cultura Manor to find hand-painted cherubs and angels — borrowed from Botticelli — smiling down from luxury guestroom walls and ceilings.