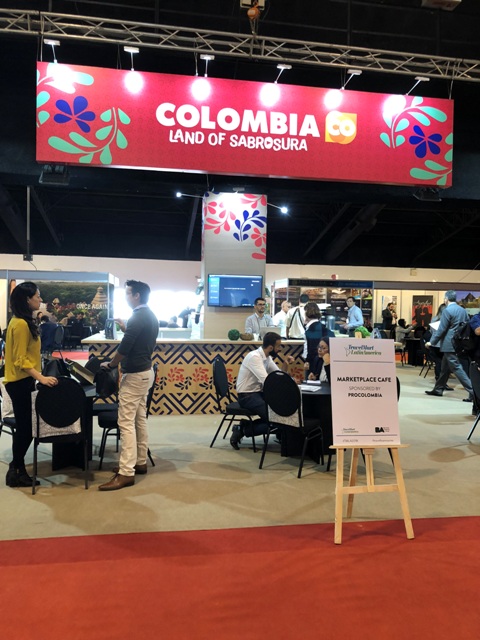 How to join the Elite Group of TravelMart LatinAmerica (TMLA) Sponsors!
Attending TravelMart LatinAmerica (TMLA) is a valuable personal and professional experience for Buyers and Suppliers, and it is especially productive for Sponsors.  Every TMLA Sponsorship option is specifically tailored to meet Sponsor budgets and business development goals.  TMLA'19 Quito Sponsorship opportunities currently include:
Host a "Working Lunch."
Become a Platinum Sponsor.
Sponsor the new "On-Site App."
Host the "Marketplace Café."
Sponsor the delegate "Name Badges."
Sponsor the Directory "USB Drives."
Provide the delegate "Welcome Tote Bags."
Become a "TMLA General Sponsor."
Every Sponsor receives:
Prominent Space in the business/exhibit area.
Preferred booth/stand location.
Additional registered delegates.
Premium position on web site "banner advertising."
Inclusion in special "Sponsor Spotlight" Email blasts.
Promotion on all prominent social media platforms.
Inclusion in all world-wide event News/Press releases, and recognition at all Press Conferences.
Inclusion on Mobile On-Site App "logo banner."
Inclusion on event signs and banners, and recognition at Official Social Functions.
Full Page advertisement in all delegate Personal Meeting Guide & Appointments Schedule Books.
TravelMart LatinAmerica (TMLA) Sponsors are a very unique and special group of Latin America Tourism Leaders who are maximizing their visibility at the Industry's most influential and premier Event.  To find out how you can join this elite group send a personal email to: Manuel Cuevas, Executive Vice President, William H. Coleman, Inc.: manuel@whcoleman.com.